UNDER CONSTRUCTION
I have been planning projects based on the A4/V2 for some time now (two main diorama's and one or two smaller ones) and have been putting it to one side basically because of a lack of information and even since these photo's were taken I have managed to obtain an excellent amount of information and actual pictures.

1) The first will be a Missile in firing position being fueled with Liquid Oxygen and will have various support vehicles and crew around. (Condor A4/V2, JV Models Mieler Wagen, and Support Vehicles from Planet Models, JV Models and Airfield Accessories, figures from various producers)

2) Will be a second A4/V2 being housted from a Vidalwagen to a Meiler Wagen by a Strabo (fries crane) near a rail siding. (V2 cast by a friend, Vidal wagen scratch build, Meiler Wagen Planet Models, Extratech strabo (fries crane), figures will be from various producers

3) Feurleitpanzer Sd.Kfz Observation Vehicle and crew
A4/V2
The kit I have used for my first A4/V2 is a 1/72 Scale plastic kit produced by Condor of the Czech Republic, it is a basic kit but still looks good.
PAINTING
I chose a 3 tone raged camouflage scheme of green, tan and off white* I achieved the effect by using masking techniques with my airbrush, the numbers were first drawn then handpainted, (I had originally painted over the panels in black and discovered later that they were not of a different colour). I have still to weather the kit with pastels and add scratches also a couple of the panels will have to be removed to add fuel connections etc.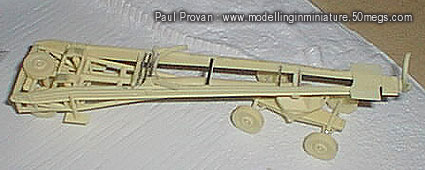 MEILER WAGEN
This is the Planet Models Meiler Wagen and I will be using this in my second Diorama, It has taken me a lot of time to get the kit to this stage. I still have a good bit of work to do to it with fuel tanks, platforms, ladders and valve gear to be added.
I decided to use this kit in my second Diorama because the JV Models Meiler Wagen comes with the hydraulic pistons in the upright position and this one comes in the traveling position.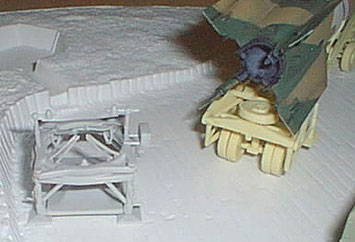 FIRING TABLE
The table comes as part of the Condor A4/V2 kit and is really pretty good, it is a little heavy on detail but carrys the basics to make a good kit. The connection just above the box should actually be a five way connector and the table is missing the mast that holds the connection cables but for a very low priced kit it holds up well. I don't know of any other Firing Table in the small scale market so it definately is a good basis for an accurate model or if you are just looking for a good representation it does just fine as is.